Exhibition of the week
Artist and Empire
The British empire is a fundamental part of British history, and indeed the history of the modern world. This exhibition features artists from Joshua Reynolds and George Stubbs to Hew Locke and Sonia Boyce. It should be a fascinating survey of a complex, tangled story that is global, intimate – and unfinished.
• Tate Britain, London SW1, from 25 November to 10 April.
Other exhibitions this week
Modern Scottish Women
Bessie MacNicol, Phoebe Anna Traquair, Margaret Macdonald Mackintosh, Dorothy Johnstone and Hazel Armour are among the many artists in this survey of women in Scottish art – their works and lives – from 1885 to 1965.
• Modern Two (Scottish National Gallery of Modern Art), Edinburgh, to 26 June.
Gilbert and George
The grand old men of British conceptual art are still trying to provoke. But have they become that cosy thing – a national treasure?
• White Cube Bermondsey, London SE1, from 25 November to 24 January.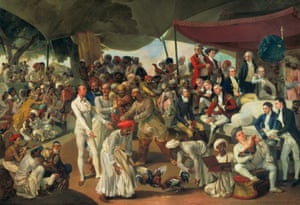 Allen Jones
The erotomane pop artist explores the sensuality of colour.
• Marlborough Fine Art, London W1S, from 25 November to 23 January.
An Imagined Museum
Head into the future for the best art show from the year 2052. This excellent exhibition has a sci-fi premise, gathering unforgettable modern masterpieces – by Marcel Duchamp, Frank Stella, Louise Bourgeois, Bridget Riley and many more – for the gallery-goers of tomorrow.
• Tate Liverpool, Liverpool, from 20 November to 14 February.