Painting the Modern Garden: Monet to Matisse review – thrillingly cosmic
I am drowning in beauty. Perhaps this is what it feels like to teeter on the edge of a black hole. Except it's art that is pulling me into the void. Claude Monet's Agapanthus Triptych (1916-19) reaches out to embrace the viewer in a shimmering world where soft reflections move on a bankless pond; a vast mirrored universe with lilies like supernovae.
This cosmic masterpiece, its three components owned by a trio of American museums and reunited here to overwhelming effect, is the final disorientating thrill in an exhibition of psychedelic modernist pastoral art that is a ravishing joy from start to finish. If you think an exhibition about gardens sounds a bit cosy or that Monet is just a pretty painter, then start at the end, with this painting that disrupts time and space as experimentally as any installation.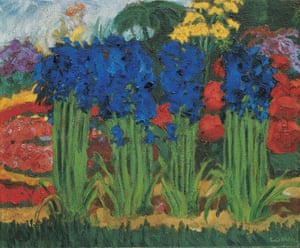 This exhibition digs deeper into his garden. When Monet finally achieved success after the struggles of his early career, he spent the money on a natural wonderland to ravish his eyes. The garden at Giverny became his second artistic project; gradually it fused with his paintings, providing endless inspiration, subject matter and reverie.
Advertisement
Monet was not the only artist in the late 19th- and early 20th-centuries to find gardens fascinating. You think a garden is a quiet refuge? It's a laboratory of light and colour. This exhibition is full of riotous red poppies, dazzling fruit orchards, darkling mazes. Henri Matisse paints a pink marble table whose pinkness fills and perfumes your mind. Women lie languidly in the sensual daydreams of Pierre Bonnard. Flowers flame aggressively in the expressionist visions of Emil Nolde.